Looking to protect your truck bed? Well then you've come to the right place.
Frenette's Auto & Truck Center is an auto repair shop that specializes in spray on bedliners.
This innovative process is the perfect answer for those looking to toughen and enhance their truck beds. Unlike drop-in liners, a spray on bedliner molds to every contour of your vehicle creating a permanent bond to the surface of your truck and allows full use of cargo space. No need to worry that water, dirt and air could get caught between the drop-in liner and the truck bed slowly rubbing away the paint, exposing the metal and causing rust to form. Just think how a spray on bedliner would sharpen a new or used vehicle and add to its resale value. Very little buck for a whole lotta bang.
Contractors —
Don't forget your utility trucks!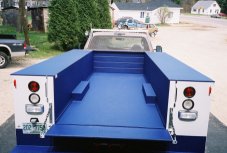 Don't forget, you can spray more than just the bed of a truck. We spray quite a few rocker panels and wheel wells while we're at it. Add one of our Tonneau covers and tube steps and you've got quite a tricked out vehicle ready for anything that comes your way.
Frenette's Auto & Truck Center Spray On Bedliners:
Provide a molded contour fit that is air and water tight.

Don't warp, crack, sag or split.

Have a fine textured finish providing a skid resistant surface.

Prevent rust and corrosion.

Handle extreme temperatures.

Resist scratches, abrasions.

Dampen noise and vibration.

Maximize bed load space.

Maintenance free.

Impact absorbing.

Professionally applied in about three hours.

Environmentally friendly.

Designed for durability.

Resistant to common chemicals.

A warranty that will outlast your truck.
Please keep in mind that this process is not just for truck beds. It bonds to virtually any surface—metal, wood, cement, etc. There are many uses for this versatile product including on specialty vehicles, wheelbarrows, boats, jet skis, etc. (Please see our Custom Jobs page.)
Frenette's Auto & Truck Center chooses to spray: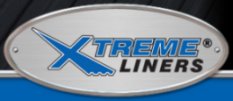 Testimonials:
"Very particular with his bedliners, I've seen a lot of his finished work which is above and beyond the average application of spray on bedliner. Keep up the hard work Dave your finished product is top of the line." – R.K., Rochester, NH